Afag Masud's Works - Book Launch in Tbilisi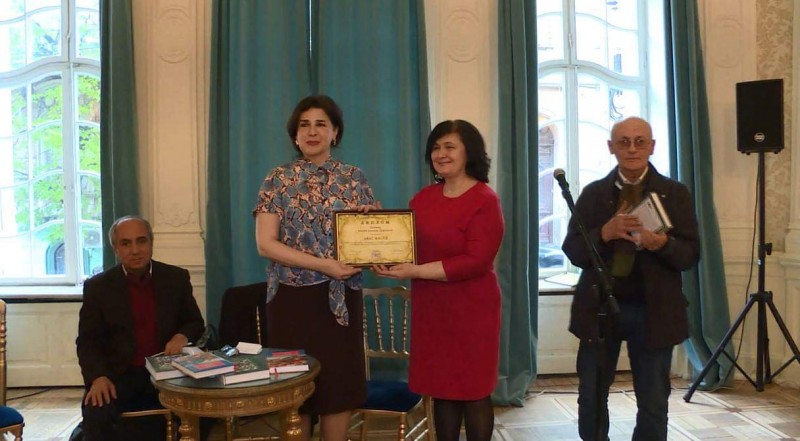 Georgia's Writers Union recently hosted an event in Tbilisi to launch the Georgian version of Afag Masud's book entitled "Freedom". The book released through "Merani", a Tbilisi-based publisher, includes Afag Masud's most famous works, among others, her novel Freedom, and the short stories - The Sparrows, Death of a Rabbit, John Paul II and At Death's Door.
The opening statement on behalf of the Writers' Union of Georgia was delivered by its
Chairman Bagater Arabuli, who edited the collection. Arabuli recounted Afag Masud and her works to the assembled participants, praising artistic value of her works. And referring to his editorial work on the novel Freedom, Arabuli called it a "jewel in the crown" of Modern World Literature.
Revaz Mishveladze, a People's Writer of Georgia, a Laureate of the Prize of Rustaveli, and a co-Chairman of the Georgian Writers' Union, pointed out the artistic novelty and the depth of creative thought in Afag Masud's works.
Later, the event included speeches by Guram Odisharia (poet and writer), Advisor to the Prime Minister of Georgia; Makval Gonashvili (poet), a co-Chairman of the Writers' Union; Erekle Sagliani (People's Poet and public figure of Georgia); Bela Kebulia (writer), head of the Ajarian publishing house "Zgwauri"; Bela Kebulia (writer) a State award winner; Badri Kutateladze (writer); Tamar Pachukidze (poet); Aleko Grigalashvili, head of the department of popularization and promotion of national literature at the Ministry of Culture of Georgia and chief editor of the magazine "Allegory"; Tamar Shaishmalashvili (poet), president of the association "Rustaveli"; and David Shemokmedeli (writer).
Nugzar Ergmelidze, a Georgian poet and composer, concluded the presentation, performing songs of his own composition.
Qalereya